Suitably scary for curious adventurers? Discover a magical cave, beautifully lit to find your way. Investigate every section as you wind your way along a safe pathway. With acres of outdoor space, play areas, adventures and activities Poole's cavern is an ideal family day out! Don't forget to let your Mum & Dad take a little break from the fun - healthy and indulgent hot and cold Cafe food for you all to try.
The tour of Poole's Cavern with our enthusiastic guides is a fun and interactive visit through the vast underground natural chambers. Stories of Stone age hunters, Roman soldiers, medieval outlaws and even a Queen are told on the journey through the cavern. Beautiful glistening crystals, echoing stream and cascades and bizarrely shaped stalactites and stalagmites fire the imagination.
The Tour is suitable for all ages with paved walkways and handrails throughout. There are a total of 28 steps in groups of two to ten. Ask us about buggy access when you come.
We usually turn off the cave lights at the end to experience cave darkness but there is an option to stay in the light if you wish, just mention to your guide when you visit if you have any concerns on your visit. We are always happy to help.
The Country park woodland are perfect for family adventures. Follow one of the marked trails to Solomon's Temple viewpoint with superb views across the Peak District. Take a kite, its often windy at over 1400 feet above sea level or explore the strange bumps and hollows across the hill and discover how they were formed.
Spot the wildlife from rabbits to woodpeckers. Collect sticks for a woodland den or hunt for fossils on the Limestone outcrops and imagine an ancient tropical sea here 340 million years ago.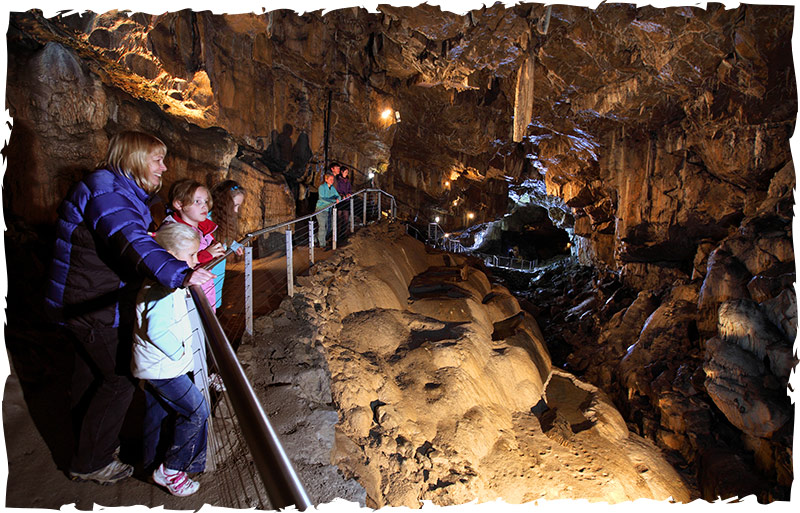 Example Itinerary for Families
We have lots to do and it can be tough deciding what best to do with your day. Here is an example itinery to help you plan your day. For more information please contact us on 01298 26978 or email info@poolescavern.co.uk
10am - Arrive at Poole's Cavern and Buxton Country Park
Using our Directions Page, you can park in our 80 space car park and stretch your legs.
10.30am – Take the cavern tour with one of our expert guides.
Tours start at regular intervals - check our bookings for availability. Explore the exhibition area, take some colouring sheets and see what you can find in the archaeological big dig displays. Look out for strange shaped crystal formations as you are led through the cavern. We give names to many of them but see if you can spot more. Take a stalagmite selfie and think of a really hard question (about the cave) to ask our guides, see if you can catch them out.
12 noon - Local Lunch and activities in our visitors centre
Taste the Peaks in our café @ the cavern, locally produce, home made cakes and soups and Fairtrade coffee served all day inside or in the picnic area. Check out the bird feeders there may be a rare one to spot, or a cheeky squirrel.
2pm - Take a stroll through the woodlands to a hilltop view.
Three trails of between 25 and 45 minutes lead to Solomon's Temple. This Victorian folly viewpoint at the summit of Grin Low has spectacular views across the Peak District. Discover the ancient history of the hill and explore the strange bumps and hollows where quarry workers once toiled. Hunt for fossils or have a go at orienteering, buy a map from the visitor centre with routes from very easy to very hard to challenge your navigation skills or find one of the many Geocache sites in the woods.