December Opening Times 2023
14/11/2023: Limited Availability
Mondays: 9:30am-17:00 with hourly guided tours 10am,11am, 12am & 1pm & Christmas Light Walk Through Event in the afternoon. 
Tuesdays: 9:30am-16:00, hourly guided tours until 3pm.
Wednesdays: 9:30am-17:00 with hourly guided tours 10am,11am, 12am & 1pm & Christmas Light Walk Through Event in the afternoon. 
Thursdays: Tuesdays: 9:30am-16:00, hourly guided tours until 3pm.
Fridays: 9:30am-17:00 with hourly guided tours 10am,11am, 12am & 1pm & Christmas Light Walk Through Event in the afternoon. 
Weekends: 9:30am- 18:00. Santa's Grotto Event & evening light walk through. NO GUIDED TOURS. 
Monday 18th-Saturday 23rd: 9:30am- 17:00. Santa's Grotto Event. NO GUIDED TOURS.
Christmas Eve: 9:30-16:00, Santa's Grotto. NO GUIDED TOURS. 
Christmas Day: CLOSED
Boxing Day: CLOSED
27th-31st December: 9:30-16:00. Hourly weekday tours and half hourly weekend tours. 
Monday 1st January: CLOSED.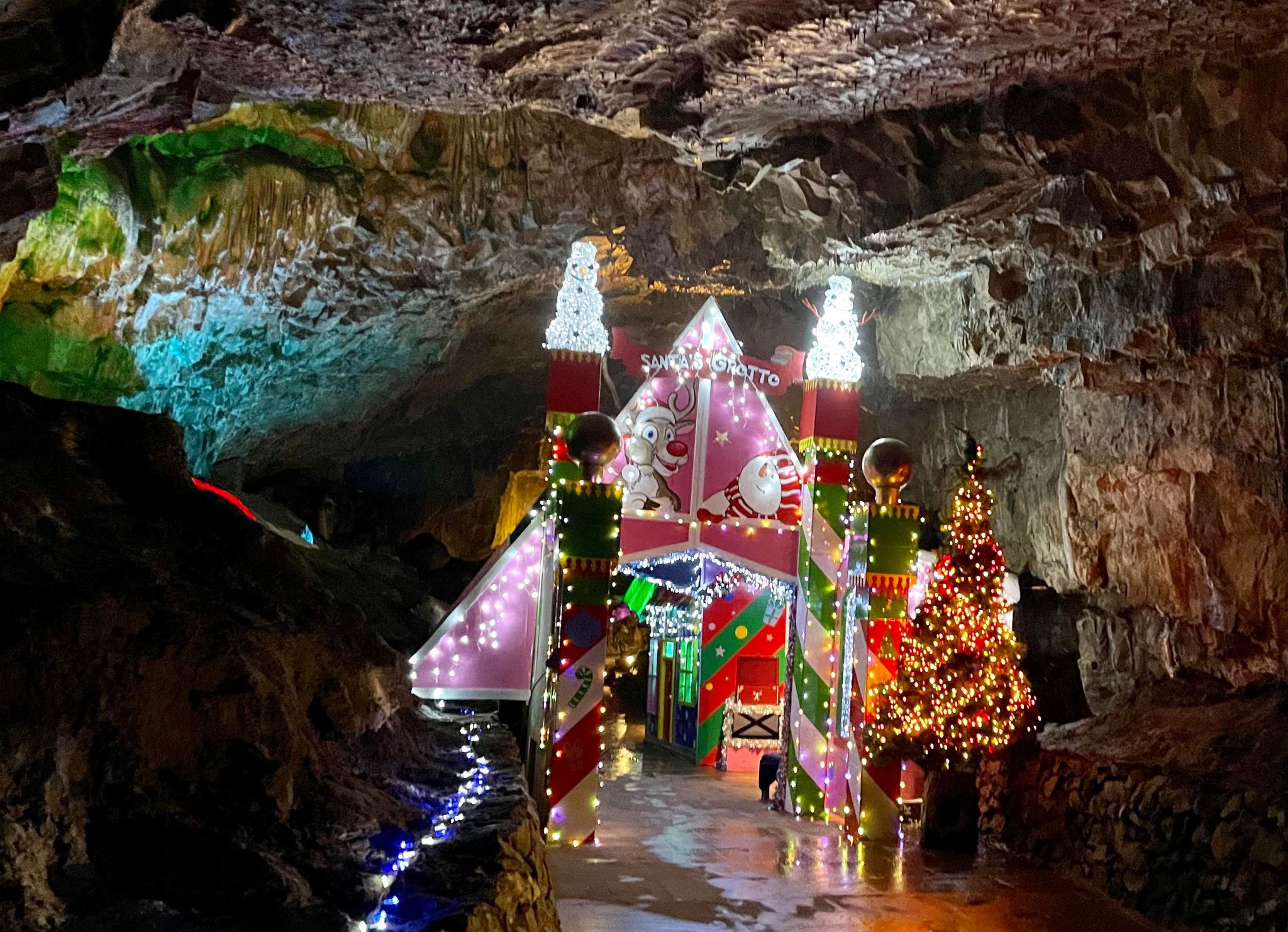 We still have a few Santa slots available in the week commencing 18th December and a couple of weekend slots due to cancellations. Our Christmas Light Walk Through has proved popular, with limited weekday slots left. 
Throughout December NO PUBLIC TOURS will run on weekends, and from the 18th December-24th December 2023. Regrettably Dog Friendly tours will only run at 10am on weekday mornings subject to availability. For standard public tours please check our website for the latest availability. 
There will be no access to the cave for visitors during our December Special Events without a pre-booked ticket. We will be closed Christmas Day, Boxing Day & New Years Day. Full opening times to follow.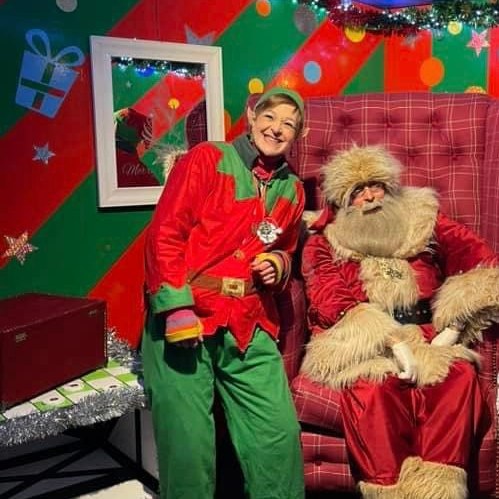 03/10/2023: Extra Christmas Light Walk-Through Tickets Available now!
We now have a couple of light walk-through slots available on Saturday 16th, Sunday 17th and Saturday 23rd December 2023. Please book online.  
02/10/2023: Christmas Light Walk-Through tickets will be released Tuesday 3rd October 2023 from 9am.
This special event gives you the opportunity to see our cavern lit for Christmas – perfect for 'big kids' (adults) and the little ones. This is a self-guided walk through Poole's Cavern; while you will see our Grotto & chambers lit with festive LEDS and decorations, please be aware Santa and his elves are very busy and will not be around for our light walk-through event. You can enjoy our cavern at your leisure and guides will be around to answer questions & tell you about the cave. 
Tickets cost £8.50pp., with under 5s going free. 
This event will run every Monday, Wednesday & Friday throughout December up to Friday 15th. 
To book our Christmas Light Walk-Through Event please use the direct link to Beyonk. 
Please be aware the cave is pushchair possible, not necessarily accessible with 28 steps in total. Wheelchairs can only access around 1/3 of the cave, please ring 01298 26978 if you have any accessibility enquiries. We regret there will be a no dogs policy for this special event. Full terms and conditions on booking site.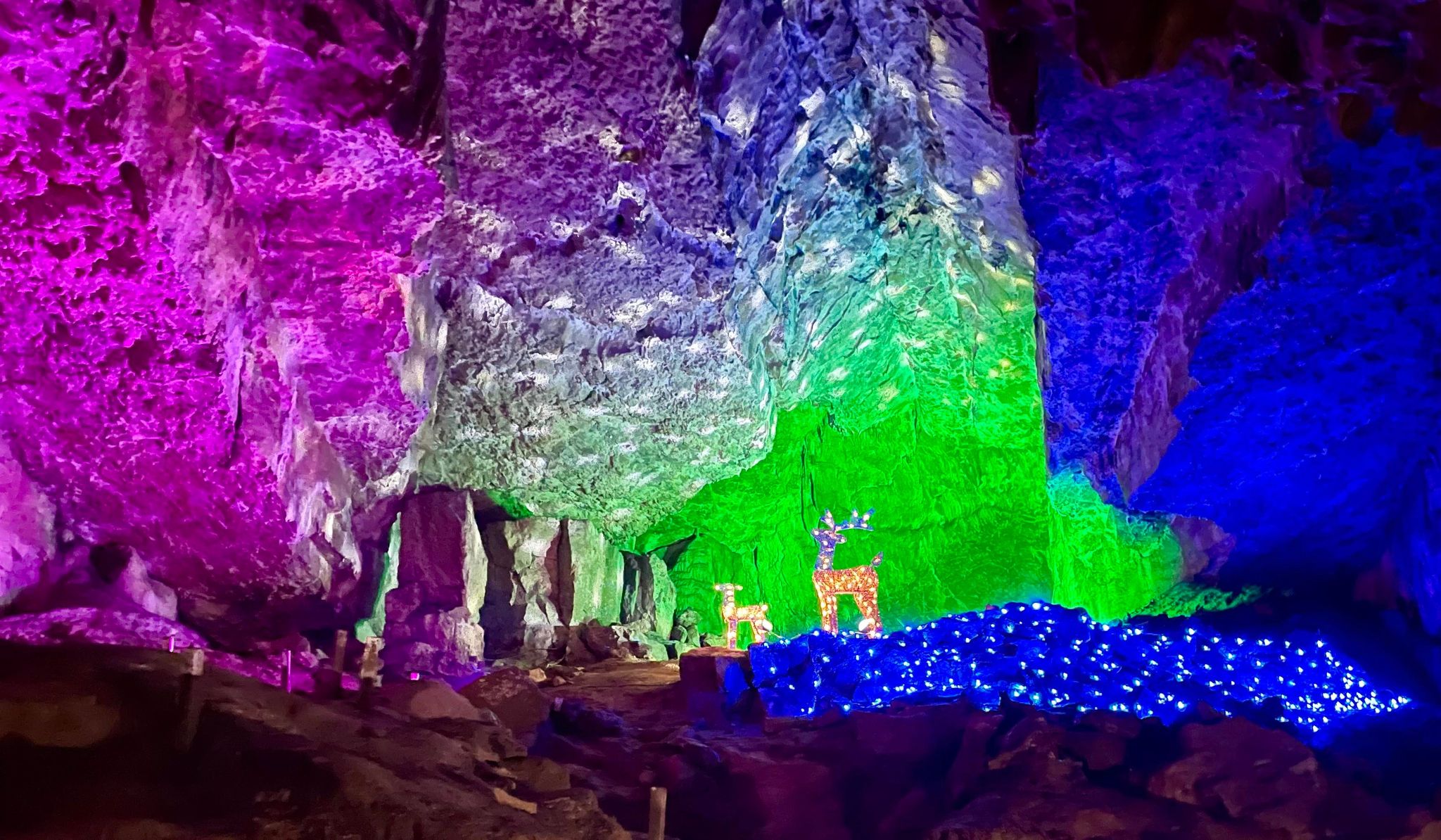 01/10/23: We can't apologize enough but thank you for your patience
30/09/2023: Tickets will be released at 9am on Sunday 1st October 2023
We are excited to announce that tickets will be available via our website from 9am tomorrow morning, Sunday 1st October 2023. All tickets are booking online only, with a maximum group size of 5. Every visitor MUST have a ticket (unless under 12 months). Please note we cannot guarantee presents for under 1s.
To book your tickets please select Santa's Grotto 2023 and choose the number of visitors and select a time slot. You will receive an email as confirmation, which you will need to bring on the day. 
As this is a special event we offer no discounted tickets and no dogs, except assistance dogs are permitted in the cave during this time. Please read the full terms and conditions carefully, some have been outlined in the blog post below. 
As previously mentioned our phone lines will not be open tomorrow. For any queries please use the contact us function on our booking system. We urge people to book carefully, as we have a strict refund policy. Tickets for our Santa's Grotto can only be purchased from our website; any bought from else-where will not permit you entry. 
We look forward to welcoming you all this Christmas and don't forget we will soon be releasing our Christmas Light Walk-Through Tickets and our Halloween Special Event tickets too. Follow us on Facebook & Instagram to find out more.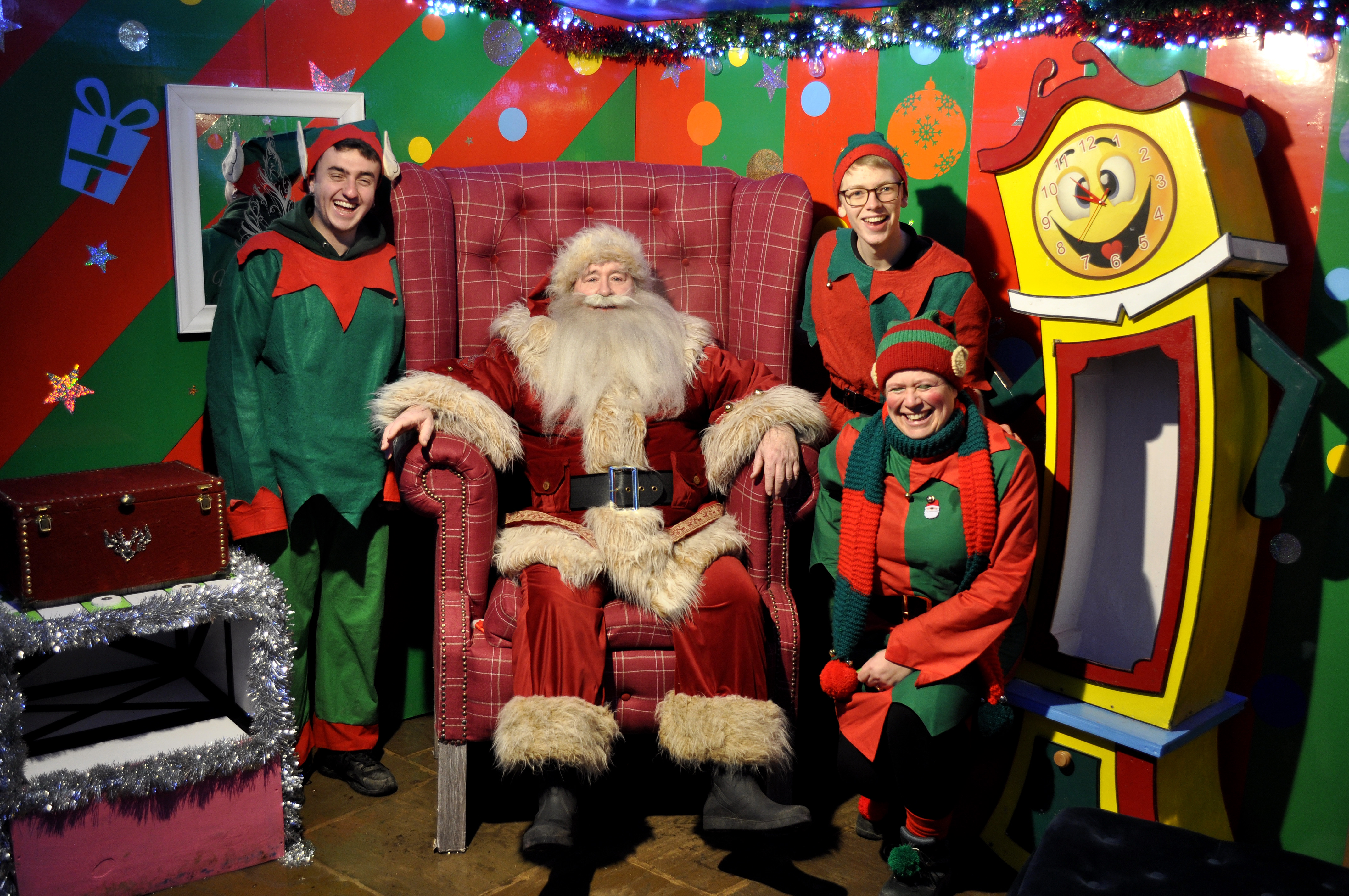 23/09/2023: All the info. you need before booking our Santa's Grotto Event. Ticket release date TBC.
Christmas is coming!
Our ever popular Grotto event returns this December. Meet Father Christmas & his elves in a real grotto before exploring our natural limestone cavern decorated with seasonal lighting. Your booked ticket will include a five minute slot for a personal meeting with Santa himself, an early Christmas present for the little ones and the opportunity to wander through our subterranean world with elves, snowmen and festive figures on hand as you explore our cave. The cost per person is £16.50 (under 12 months are free). The maximum number of tickets per slot is 5. The trip takes on average 30 minutes but you can stay as long as you like!
On-site we have a small gift shop full of local crafts and gifts. We also have a café, serving hot drinks, home-made cakes & food. Please note there is limited indoor seating, but plenty of outdoor space to enjoy your festive treats. We also have a 100-acre woodland; paths will likely be slippery and muddy so please dress appropriately. We have a  car park at the front of our Visitor Centre & it is roughly a 30 minute walk to us from Buxton Train Station.
Our Santa's Grotto Event will run the weekends of:  2-3rd, 9-10th, 16-17th & 23rd-24th with weekday Grotto tickets available from Monday 18th- Friday 22nd  December 2023. Entrance is by pre-booked ticket only.
Tickets can be purchased by online booking only. Please don't call as we cannot take bookings by phone. Please remember we are a small visitor attraction; our phone lines are not prepared for a high volume of calls. Please note our phone lines will NOT be open on the day of the ticket release. Please continue to follow this blog & our social media, as we hope to release the tickets soon.  
Please read conditions before booking.
Santa's Grotto is fully accessible for buggy and wheelchair users, however further parts of the cavern have some steps and slopes.
The Temperature inside the cave is 7 degrees Celsius. Santa's Grotto is inside the cave.
Dogs apart from assistance dogs are not permitted in the cave. They are very welcome in the Visitor Centre & Woodland Trails though.
There are 28 steps in the cave the largest flight being 11 steps.
TERMS AND CONDITIONS
Each booking will be given a timed entry to visit Santa. There is a maximum of 5 places for each booking.
You must arrive 10 minutes before your entry time to validate your tickets at the visitor centre. You will be greeted by one of Santa's helpers who will show you to the grotto, which is inside Poole's Cavern itself.
Poole's Cavern operate a strict No Refunds policy on unwanted tickets or late arrivals. We cannot guarantee entry to late arrivals due to our events usually selling out.
If you are unable to attend on your booked date, please inform us at least 48 hours before and we will endeavour to rebook you.
If you are a little too old for Santa but still wish to experience the Cave at Christmas, we will once again be offering the Self-Guided Christmas Light Walk-Through- details to follow. Watch this space!
Note: This event is very popular and we often see 'unwanted' tickets for sale from other sources, please be aware, tickets are ONLY available from our booking site. You will not be permitted entry without a valid ticket. If you have bought a ticket that you no longer require please get in touch and we can help. 
We are aware this event often sells out quickly, we take this as a complement to our hard-working and dedicated staff. We look forward to welcoming you all this Christmas.
Next Blog update will be Saturday 30th September.
28/08/2023: Ticket Date yet to be released
We have set up this blog as the hub for all Poole's Cavern Christmas Information. Please check this blog & our social media for the latest updates for Santa's Grotto & Christmas Light Walk-throughs. We have not yet confirmed a date for ticket release, but it is usually early October. We appreciate that due to limited tickets you are eager for information but please do not call or email us with Christmas enquiries as we are a small team; all the information will be released on our website (here) and on our social media platforms. We are looking forward to running our Grotto & Light Walk-through events again this year and welcoming you all to our cavern. Keep checking in for updates! 
Please note we do not do group bookings for our Santa's Grotto event.