Written by Tour Guide Angela Briggs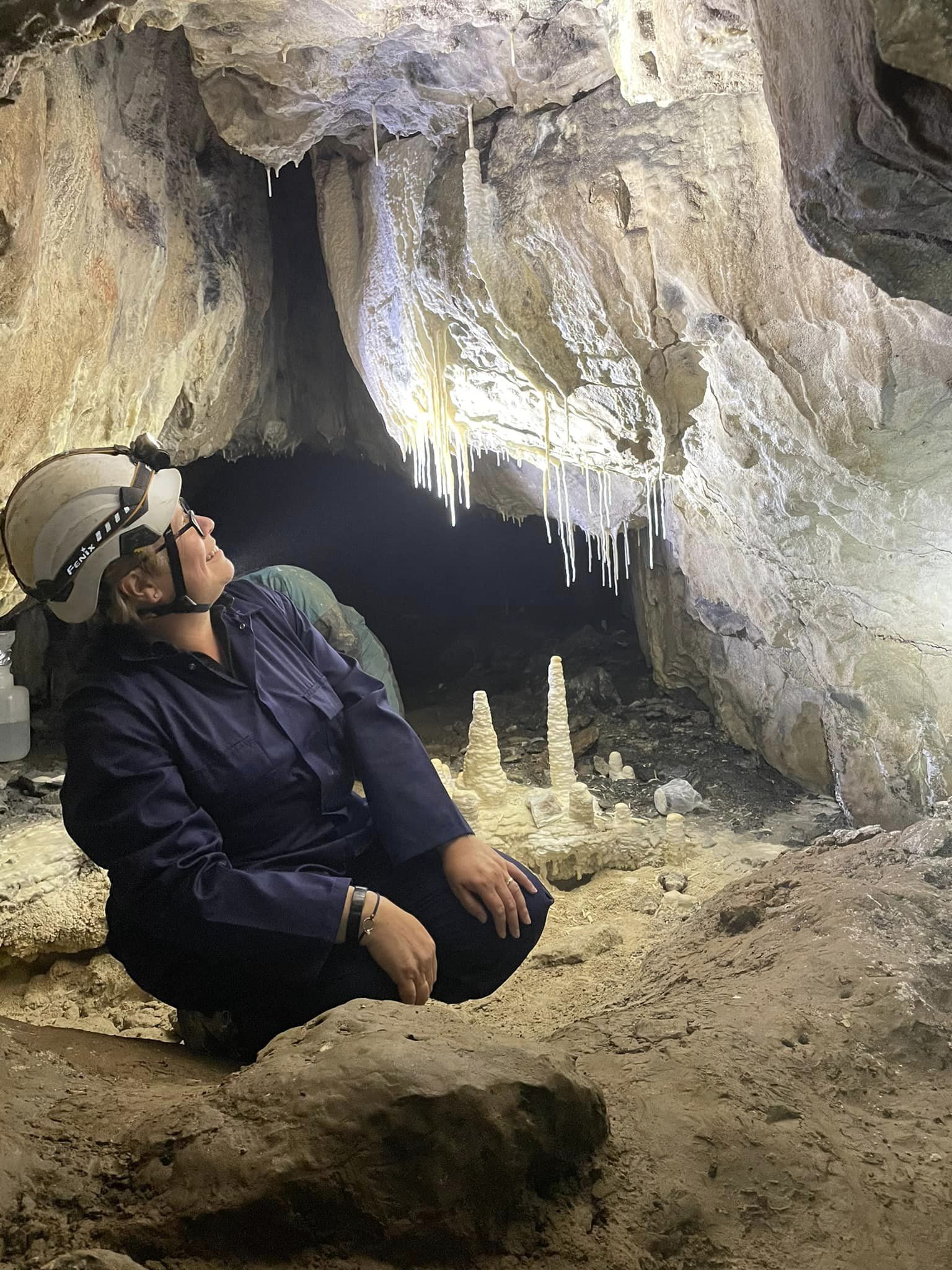 Although being born and raised in Glossop I have always had connections with Buxton.  My mum was from the Buxton area and many of the family remain there. 
I joined the Poole's Cavern team as a tour guide in May 2021 and soon after my mum and aunt joined one of my tours.  Towards the end of the tour, I told the tale of how local cottage tenants used to escort tourists into the bowels of the cave by candlelight, before threatening to extinguish their candles and run away, unless more money was forthcoming.  It was at this point that my aunt said, 'did you know your great great grandparents were local cottage tenants?'  I wasn't aware of this, but a member of the group asked, was this still a family trait? should the visitors on my tour start to empty their pockets?  I assured my group that I was in fact a nice person and a member of the group mentioned that should I turn off the lights, they all had torches on their mobile phones anyway. Darn it!
I decided it was time I did some research into this, if only to put a stop to the rumours of my family's skulduggery being voiced by my work colleagues!  Sadly, my dad had passed away before I started to work at the Cavern, but I knew he had put a lot of work and effort into researching our family tree and I decided this would be a very good place to start.
I started with my great great grandparents, Samuel and Mary Ogden.  Sam was born in Wirksworth in 1838 and the census of 1851 then shows he had moved to Burbage.  Here he married Martha who sadly died the year after, but he was re-married to my great great grandmother Mary Ogden in 1863.  Mary Ogden was born in Fairfield and later became a house servant and moved to Terrace Road, Buxton.  When Sam and Mary Ogden were married the census shows them living on Green Lane, Buxton.
Sam was a Stone Getter at Grin Works, Burbage and in 1870 he was involved in a serious accident which was reported:
Derbyshire Times and Chesterfield Herald
Publication date: Saturday 23 July 1870
ACCIDENT AT GRIN WORKS. We regret to hear that another accident has occurred at these works, Samuel Bennett, son of John Bennett, of Green Lanes, Burbage, met with a sad one during the past week. The wagons catching him as he was ascending some steps, by which he got his arm dreadfully shattered, his head cut, and otherwise seriously injured, doubts are entertained as to his recovery.
Luckily for me (or I wouldn't be here today!) he did recover and according to the census, in 1882 my great great grandparents lived at Poole's Cavern.  That same year my great grandmother (Mary Alice) was born the youngest of 10 children and her birth certificate states, 'born at Poole's Cavern'.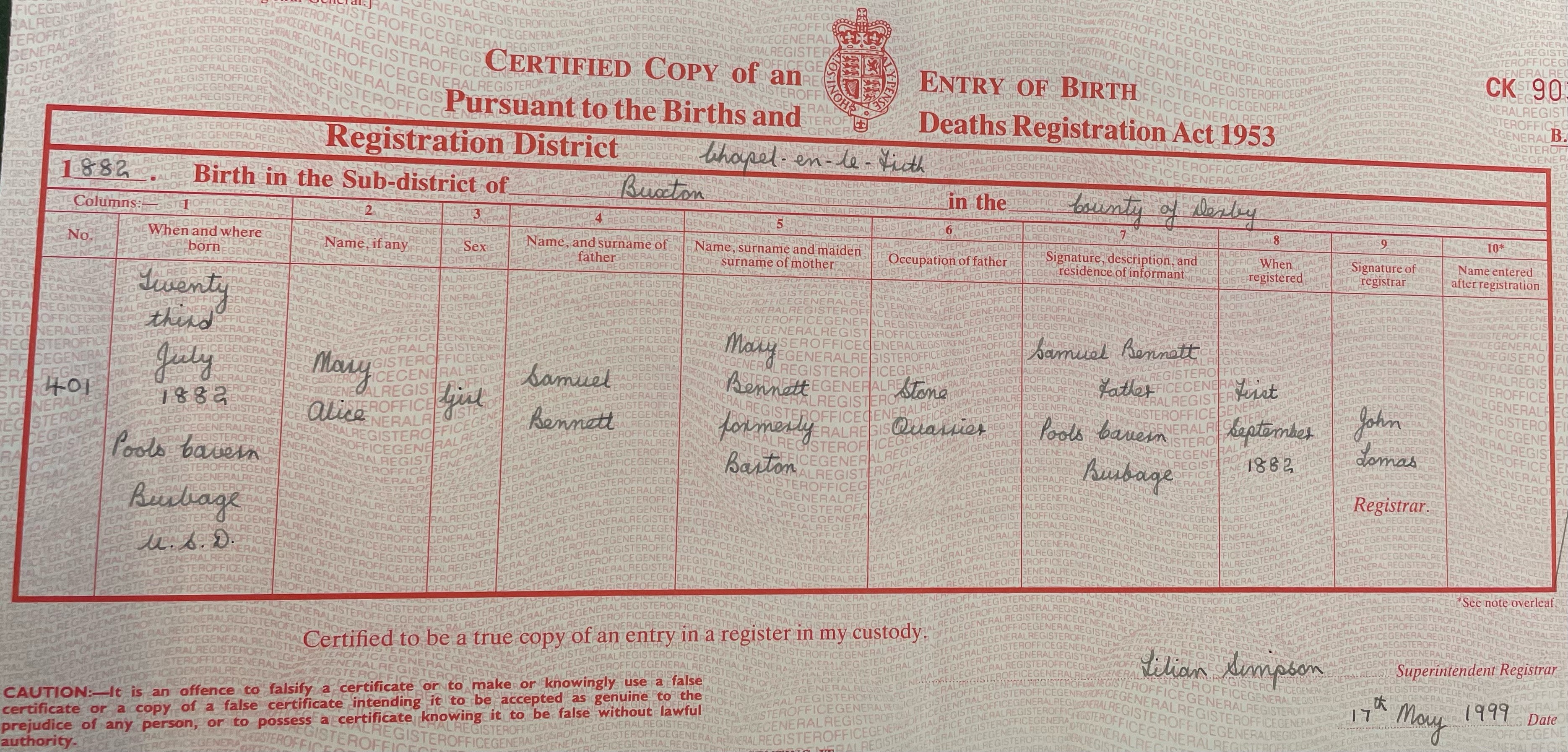 Mary Alice was a general servant before she married my great grandfather Richard (Dick) in 1906.  Dick had been born in Dove Holes and worked in various roles as carter, stone quarrier and wagoner.  When they married, Dick was a farm labourer and they lived on a farm in Fairfield and it was here in 1909 that my grandfather was born the second eldest of 7 children.
Photo: Mary-Alice front row second from right with Dick front row second from left. Behind them far left is their son John William Hawley (aka. Angela's Grandad Jack), holding his daughter (aka. Angela's Mum).
Mary Alice and Dick finally settled at a farm in Dove Holes around 1914 and it was here that they would remain as dairy farmers until their deaths.  Mary Alice passed away in 1955 and she was followed by Dick in 1963, they are buried together at Christ Church, Burbage.

1.       I never appreciated all the hours of hard work and research that my dad put into gathering all the information for our family tree and I only wish he were still with us so I could tell him how amazing his work is.  I will always preserve the information for future generations.
2.       I have discovered that although my family does have a connection with Poole's cavern, that connection is after Frank Redfern was made custodian of the cave, therefore I think it is safe to say that we were not a family involved in any skulduggery.  Not back then anyway! Future visitors … bring you phones … just in case! 😉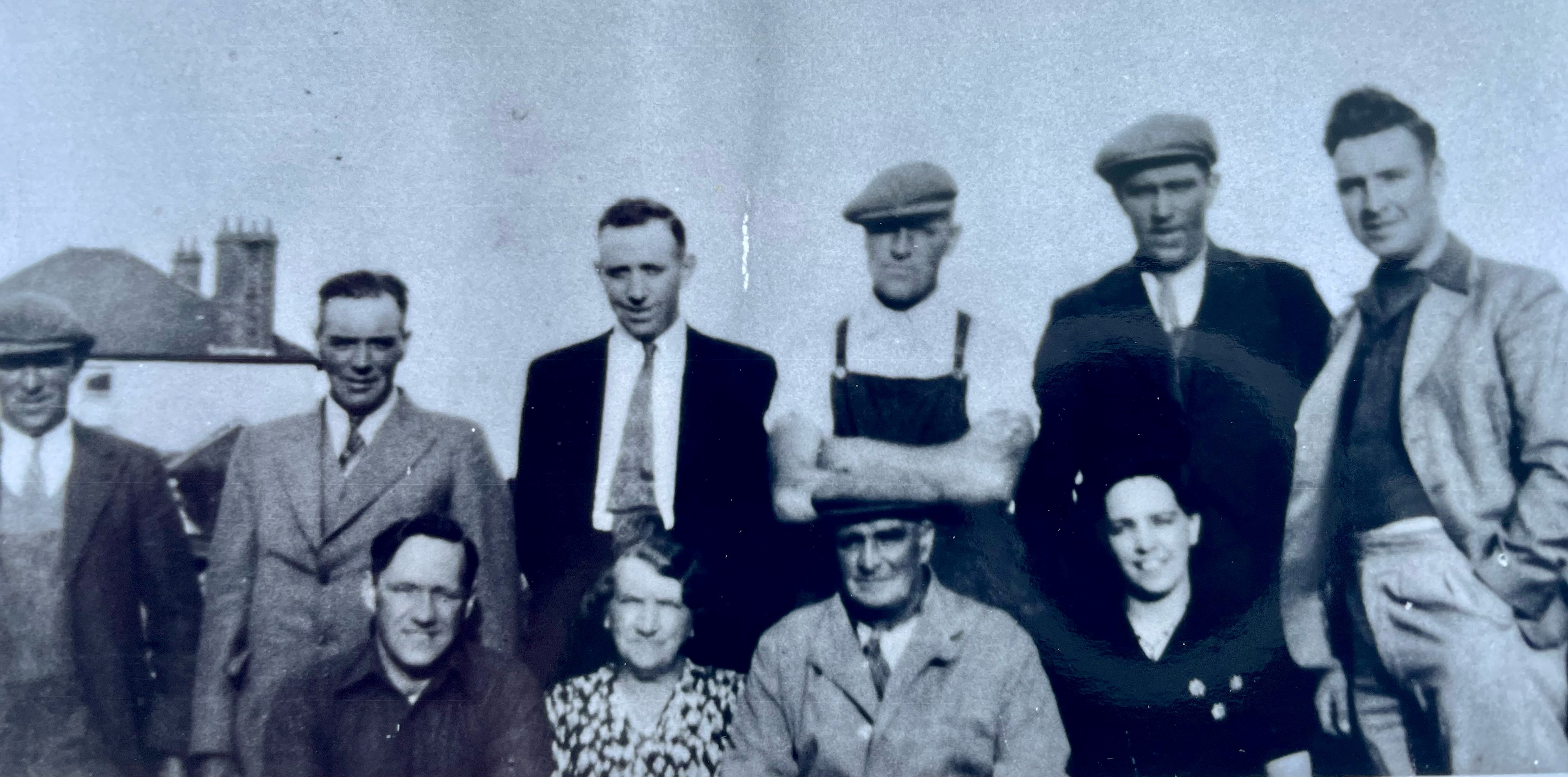 A huge thank you to Angela Briggs & her family for sharing their family history & her dad's research.