We are now offering woodland based activities to groups in Buxton Country Park adjacent to Poole's Cavern as an additional session to your cavern visit. Why not have a tour of the cave and then come into the woods for the other half of your day?
Throughout the summer we have a range of free sessions, events and workshops happening in BCA Grinlow Woods and beyond with our Stronger Roots team. We have things to occupy and entertain families and adults alike. From Family Yoga, to Mindfulness and Bushcraft to Woodland Tuesdays. Check out and follow us on Eventbrite to stay ahead of the pack. Click here for details and booking.
Our Wayahead programmes are linked to the National Curriculum and we have a mixture of sessions designed to last approximately 2 hours, to suit different age groups as follows:

Fire Starters
Find your way up to base camp high in the woods at Grin Low using the clues to help you. Then - can you master one of the skills of the lime burners that used to live here - and become a fire starter?
Which type of wood burns best? What types of wood are available at your base camp? How do you build and light the perfect fire? Can you put all your knowledge into practice and enjoy the pleasures of a perfectly toasted marshmallow?

Temple Hunters
Can you find your way up through the woods to reach Solomon's Temple for a 360˚ view of Buxton? Follow the clues as we work out what used to take place on Grin Low over 200 years ago. Discover old lime kilns, secret pathways through the wood and maybe even spot a few fossils on the way!

Fossil Hunters
In a session designed to link in with Rocks and Soils topics, we investigate what lies beneath the trees...what used to happen on the hillside hundreds of years ago, and what was here millions of years ago? How many different types of fossils can you find on our journey through the woods? Why is limestone such a valuable commodity?
Outdoor Genius is now known as Wayahead Training - new details coming soon. We can also run sessions based solely around shelter building or general bush-craft if requested.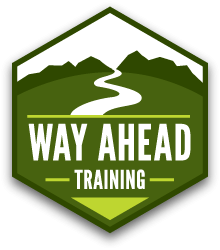 The cost for these sessions is £4.50 + VAT per child for groups of 25+ (a minimum group price will apply to smaller groups). All accompanying staff are free of charge.
If you would like more information or to book one of these sessions for your group, please get in touch with us by emailing or visiting our website for more details. We look forward to hearing from you!