Special Event: Running Thursday 3rd & Thursday 10th August 2023
Step back in time to the nineteenth century, the cave known as Poole's Cavern is reopening and its venerable custodian, Mr. Frank Redfern, and his son, Francis, stand ready to extend a hearty welcome and lead you on an underground adventure, to reveal stories of how the past has been so cleverly uncovered.
By the dim, flickering light of lanterns, they will recreate the very atmosphere that illuminated the cave a century and more in the past.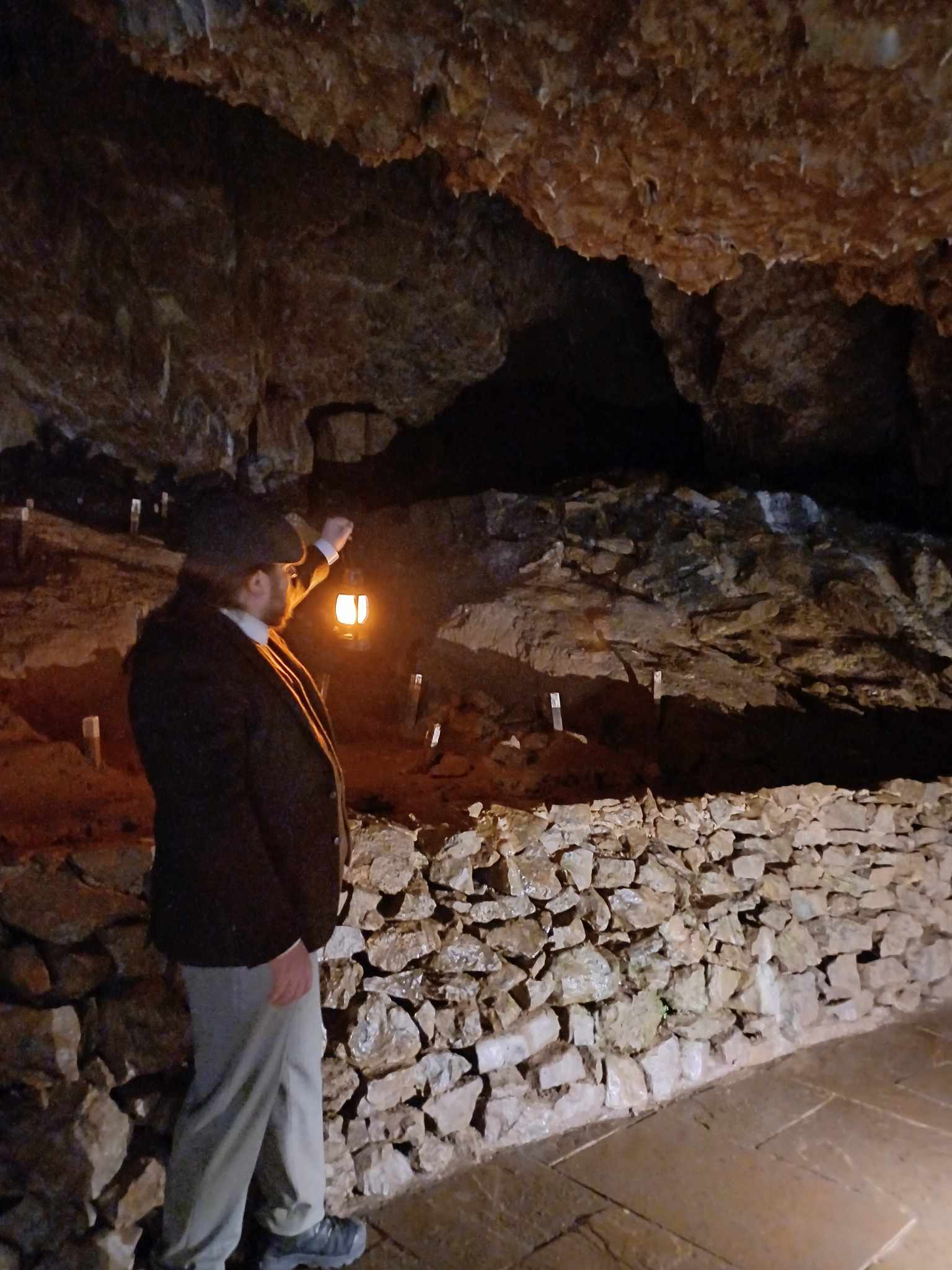 As you venture deeper underground you will pass the Roman Chamber that gave up its secrets over many years, you will pass into the Cathedral Chamber, a place of awe and wonder, adorned with coruscations of glistening formations so breathtaking, it is as if nature herself has etched her grandest masterpiece. Above, a vaulted roof, like the arches of a celestial abode, sheltering secrets and tales untold.
But stay your steps, for there lies a tale of great intrigue! Did Mary Queen of Scots, that unhappy monarch cast her eyes upon the very pillar that now bears her name? Many have speculated but the truth remains a mystery.
And what lies beyond, what secrets lie hidden from view, beyond the boulder choke.
Tours on 3rd and 10th August starting at 6.30pm Ticket prices £18.50
For this special 170th anniversary event, we will be turning off our LED lighting system in the cave & walking along our paved path under lantern light. There are 28 steps on the tour & it will last around 45 minutes. Due to the nature of the tour, once you are past the first chamber you are along for the ride, we cannot permit you to leave the tour after our first chamber. These special anniversary tours regrettably are not for anyone with serious health issues, epilepsy, claustrophobia or nyctophobia. We are afraid that wheelchairs and pushchairs will not be permitted on our Victorian Tours due to safety reasons. We have made every attempt to make this event as accessible as possible, but due to the subterranean environment there are some restrictions. If you have a query, please do not hesitate to call us on 01298 26978 or email info@poolescavern.co.uk.